Hello, Summer!!! It's that time again!! Time to start the Save The Children Summer Reading Challenge!!! Who is ready to win some AWESOME PRIZES?!?! And by AWESOME, we are talking about Chromebooks, Nintendo Switches.... just to name a few. If you want to learn more, scan the QR CODE (it's in the picture), register, and start reading!! You may also pick up a flyer (and a book if needed) at the Little Free Library at MVES (located near the awning). This program is for all students enrolled in the Mountain View School District who just completed 1st, 2nd, 3rd, or 4th grade during the 2022-2023 school year. So let's go Mountain View, Rural Special, and Timbo... report what you are reading and you might win a PRIZE!!!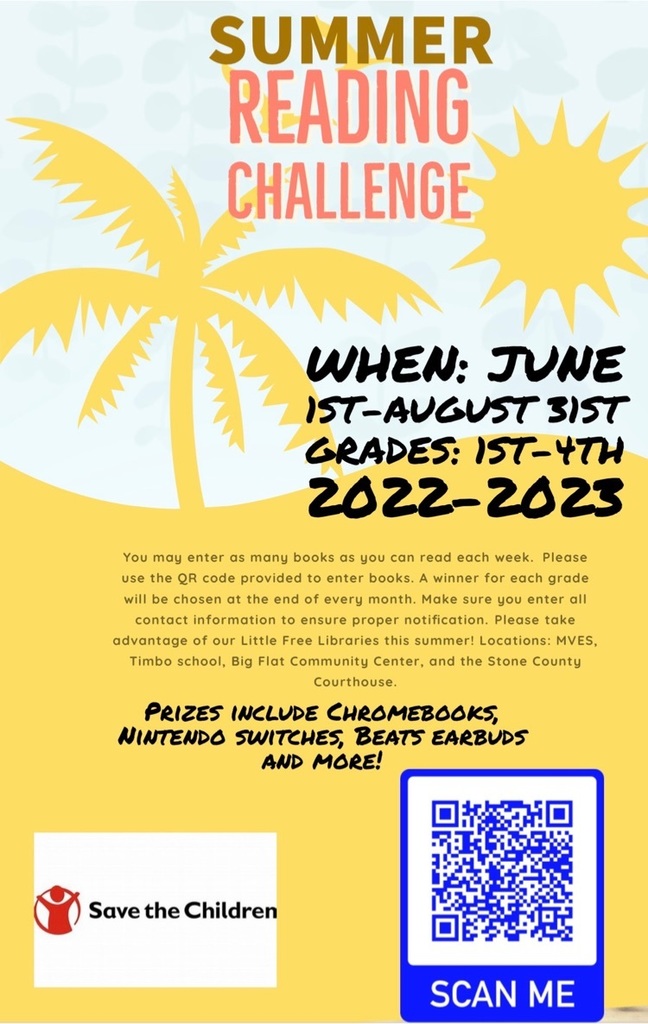 KINDERGARTEN GRADUATION REMINDER: Kindergarten Graduation is Monday, May 22 at 9:00 AM in the elementary multipurpose building. Please drop your child off at the Kindergarten Building at 8:20 AM. No breakfast will be served prior to graduation. Please park in the middle school parking lot behind the buses. Following graduation, your student will return to his/her classroom. Each student will remain in their cap and gown for picture opportunities. Official diploma and report card will be distributed when student is signed out and cap and gown is returned. Thank you for your help in making this a great year!

REMINDER: Mountain View School Pantry will have a food box distribution today, May 11, at the Mountain View Kindergarten building. Boxes will be distributed to families of MVSD students from 4:00-5:00 or until all boxes have been handed out.

All schools in the MVSD were able to enjoy the morning together for a friendly, round-robin, elementary quiz bowl tournament. Following the games, 5-6th grade students enjoyed lunch and trophies at Los Locos. Congratulations to MV 6th grade 1st Place, MV 5th grade 2nd Place, RSES 3rd place, and TES 4th place.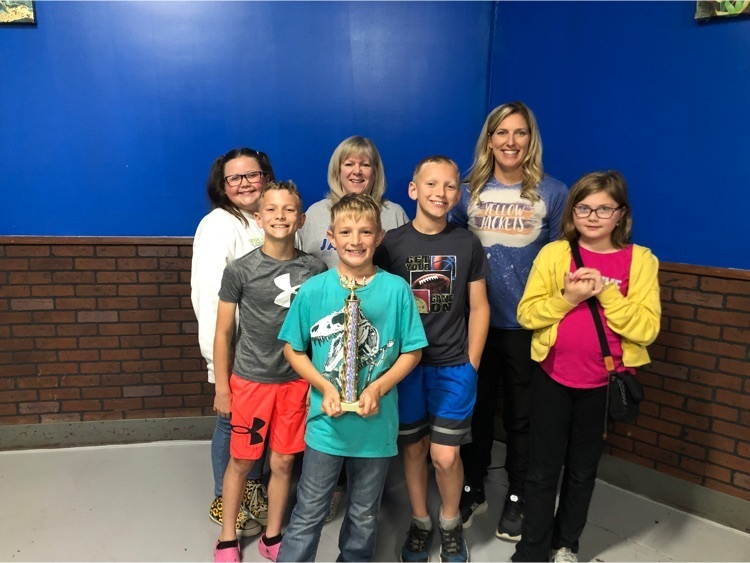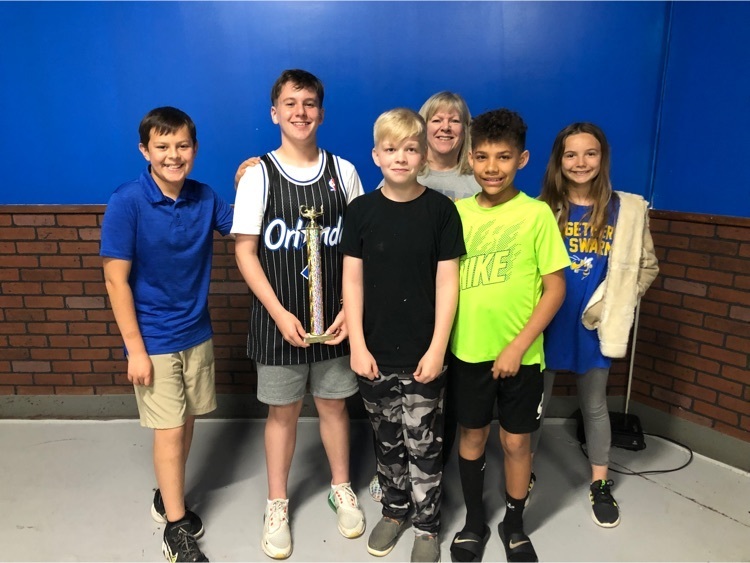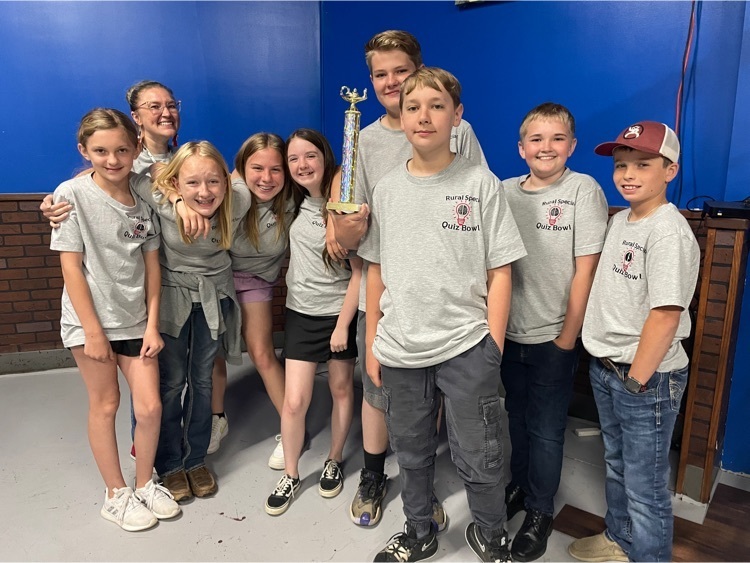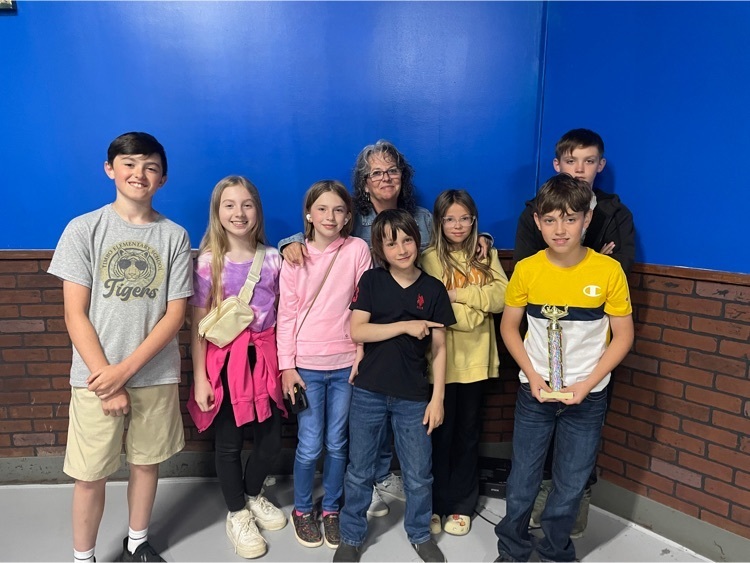 RS and Timbo's 4th grade and 8th grade social studies classes spent Wednesday morning exploring the Stone County Museum. Students had the opportunity to learn about Stone County natives such as Jimmy Driftwood (famous song writer and former teacher at Timbo) while exploring a variety of items that the museum houses. Students were encouraged to bring their family over the summer to explore the genealogy room as well as other items. We appreciate the opportunity the museum volunteers extended to our students. The Mtn View Campuses will attend next week.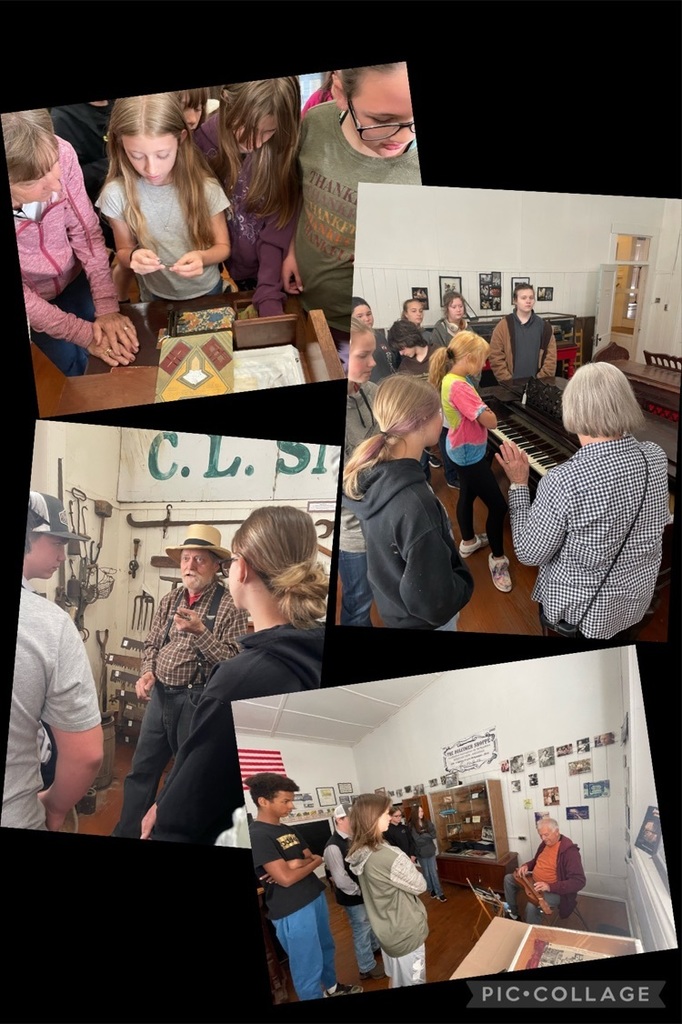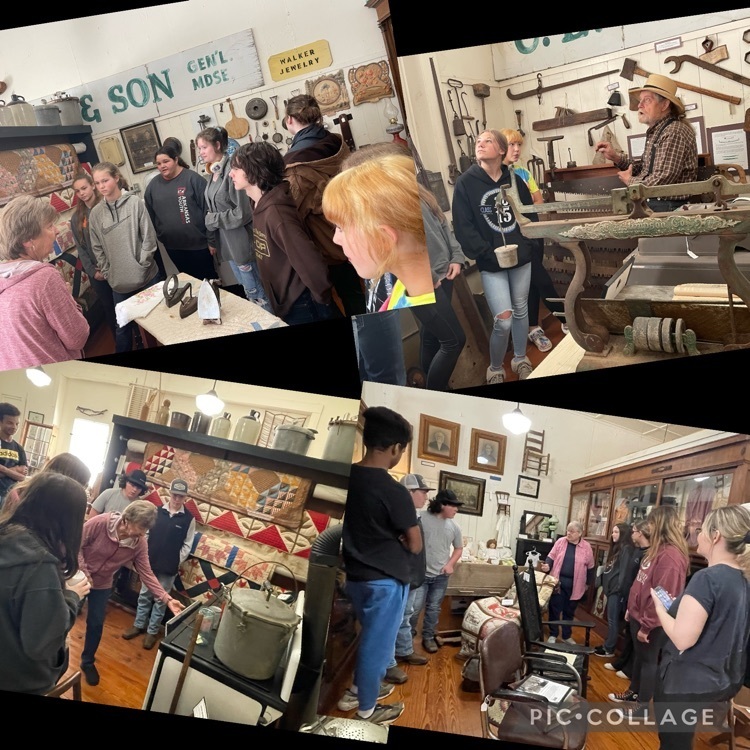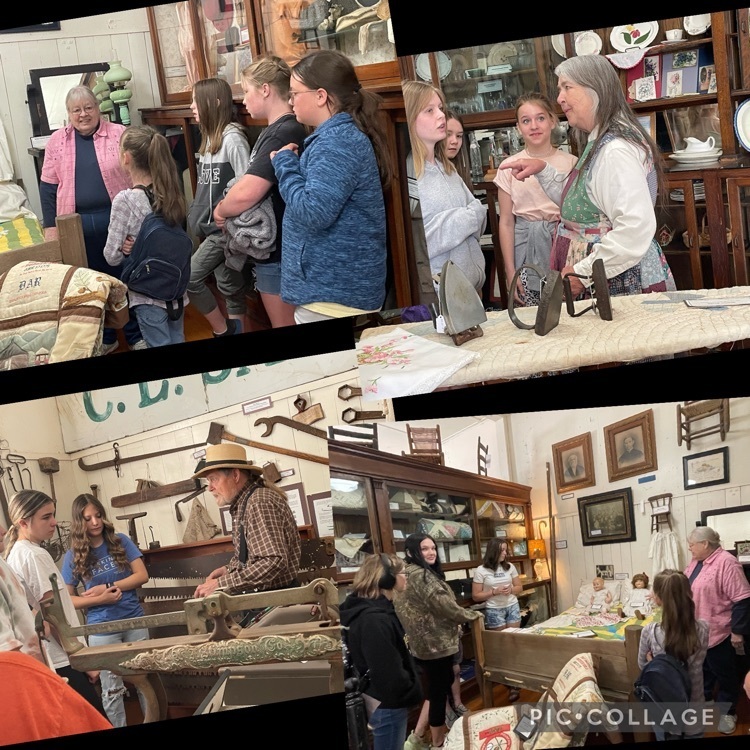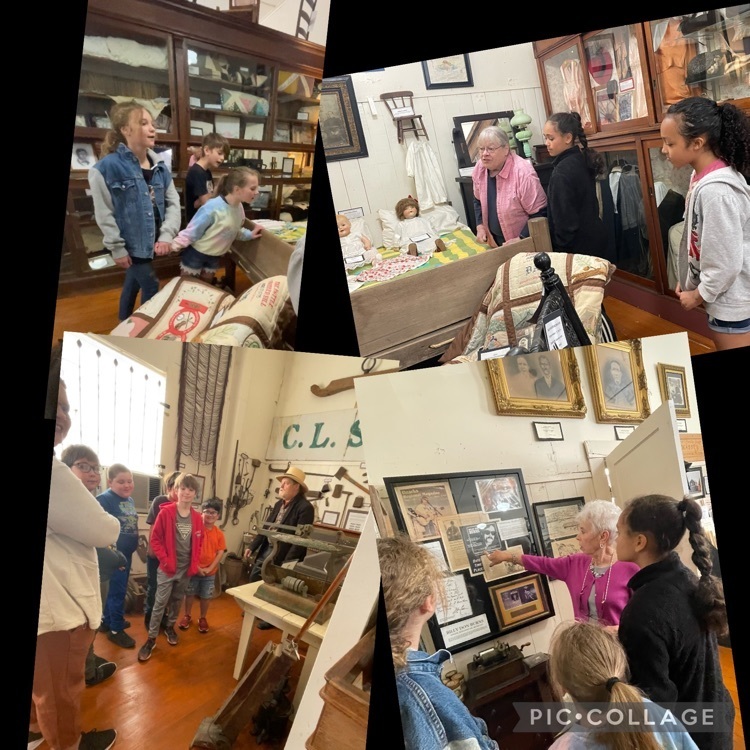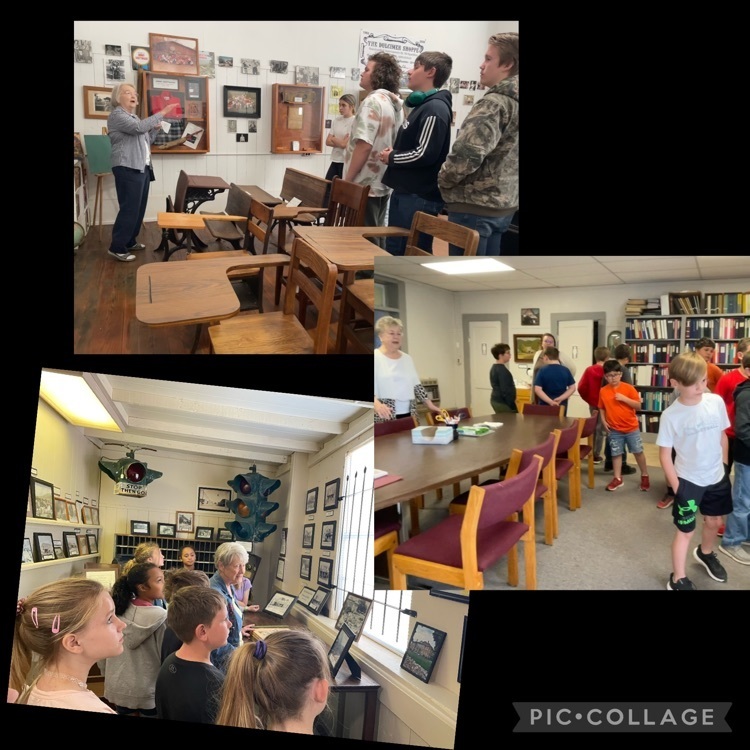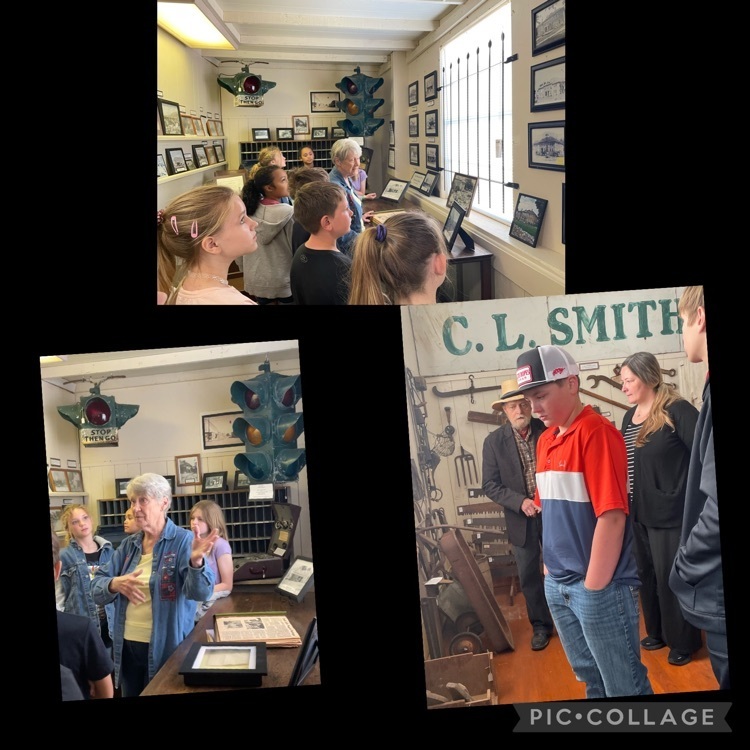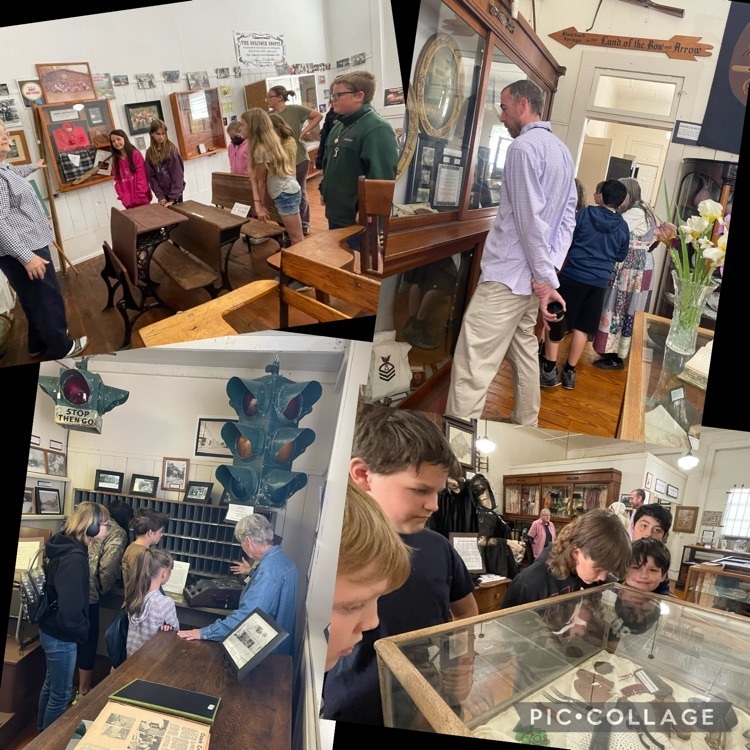 Due to next week's Hooked on Fishing event at the Mountain View High School Pond, the pond will be closed to the public from today through May 12. Again, the MVHS pond is closed to the public through May 12. Thank You.

Due to road construction in Mountain View, some school buses may be delayed this afternoon and for the remainder of the week on the afternoon routes. Thank You

The Mountain View School District was well represented today at the Governor's Scholastic Honors Day. Congratulations to these students and their families. We are proud of you! Tessa Turner, MVHS Echo Mitchell, RSHS Gage Massey, THS Shawna McKnight, MVHS Kalli Sutterfield, RSHS And pictured individually Emma Roubique, THS (Students were assigned different times to arrive today)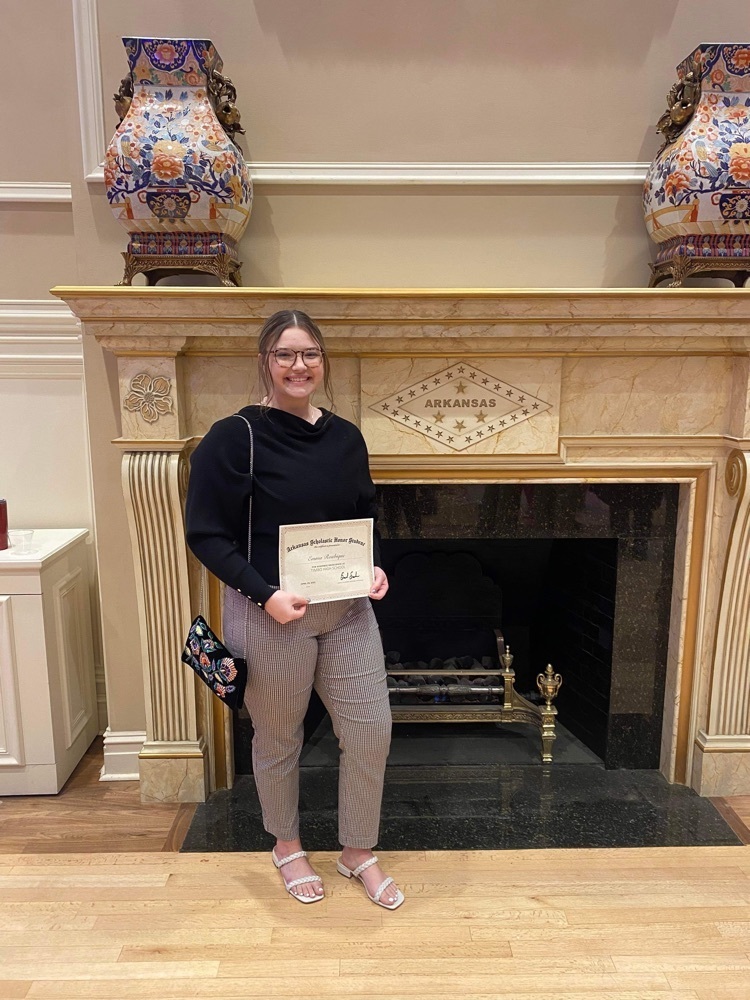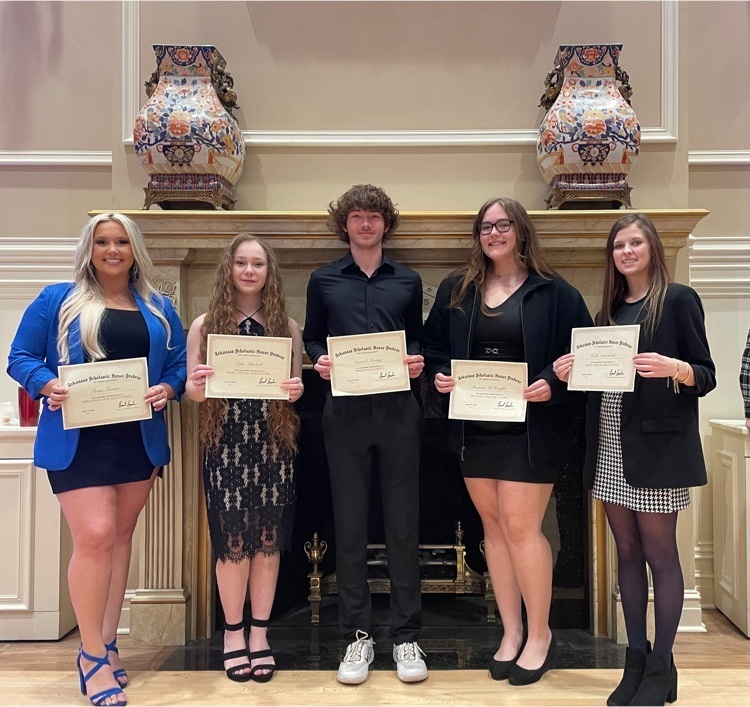 The Music Roots Program and Danny Thomas, former superintendent of the Mountain View School District, were awarded the Folklife Award at the 2023 Governor's Arts Awards at the Robinson Center in Little Rock today. Mr. Thomas established the Music Roots Program in 1997 through a partnership with the Ozark Folk Center State Park. We are so thankful for the availability of this program to preserve the authentic folk music of the Ozarks through our students. Developed with a career orientation grant, the program is now funded by the Committee of 100, the Mountain View School District, Ozark Folk Center, and Mountain View Bluegrass Association, as well as support from Ozark Traditions. We also appreciate the community support for the Music Roots Program.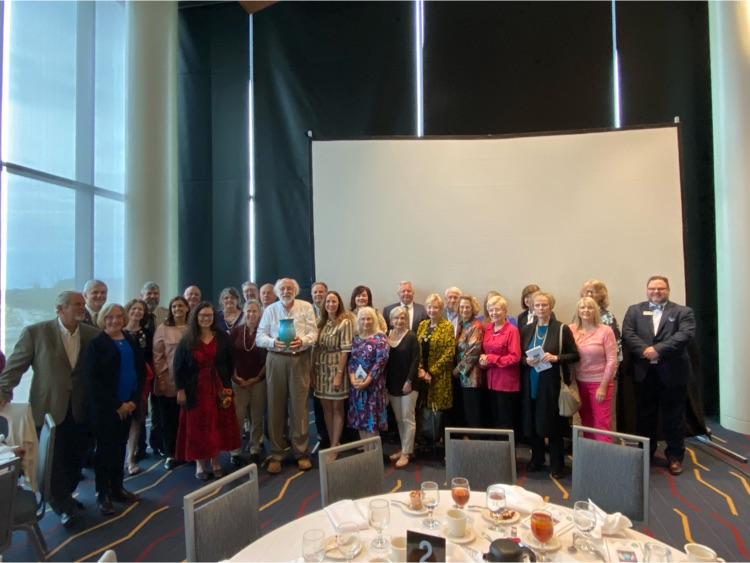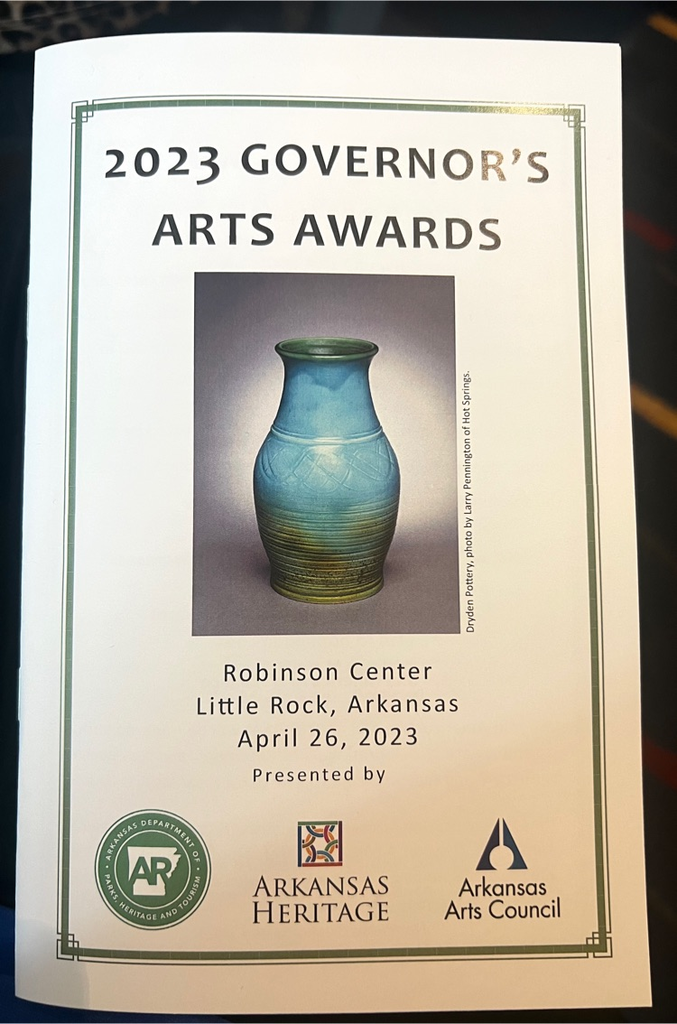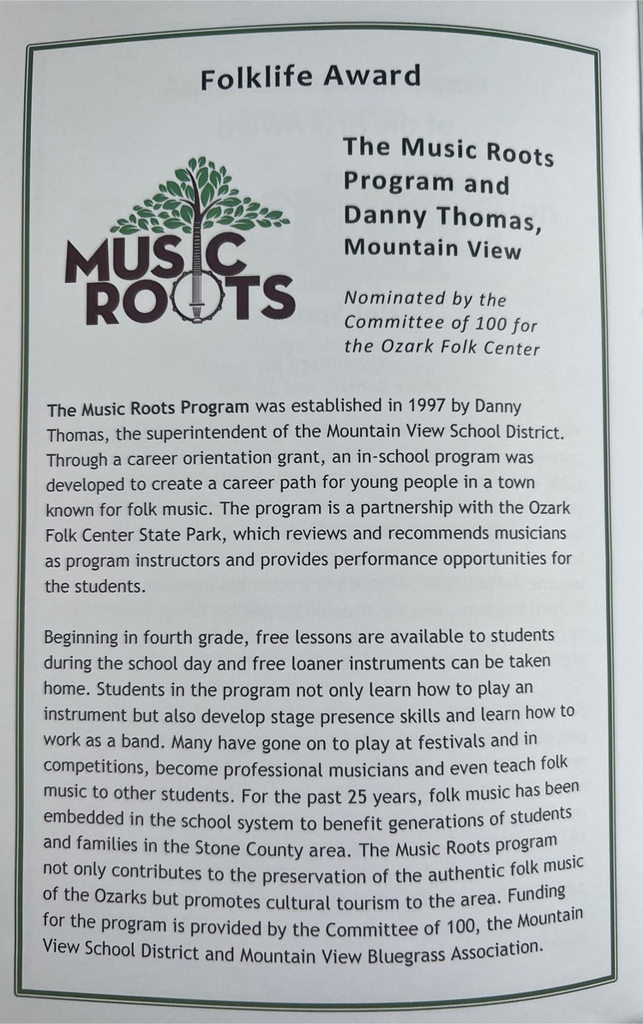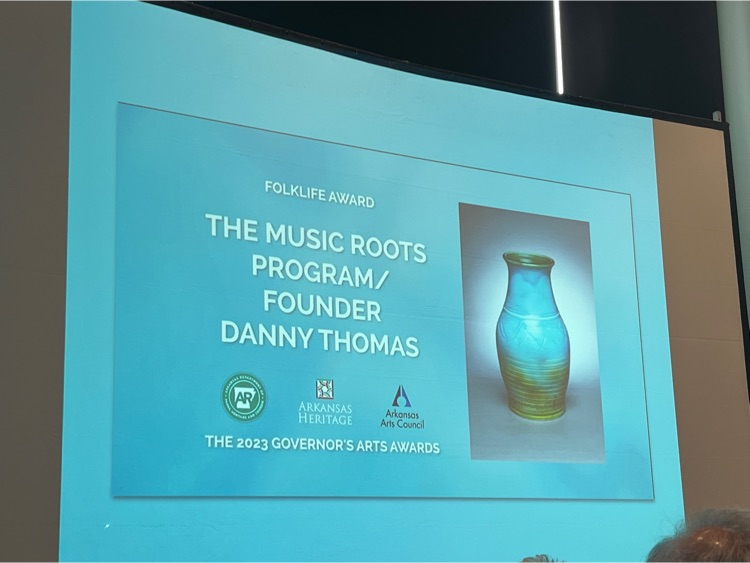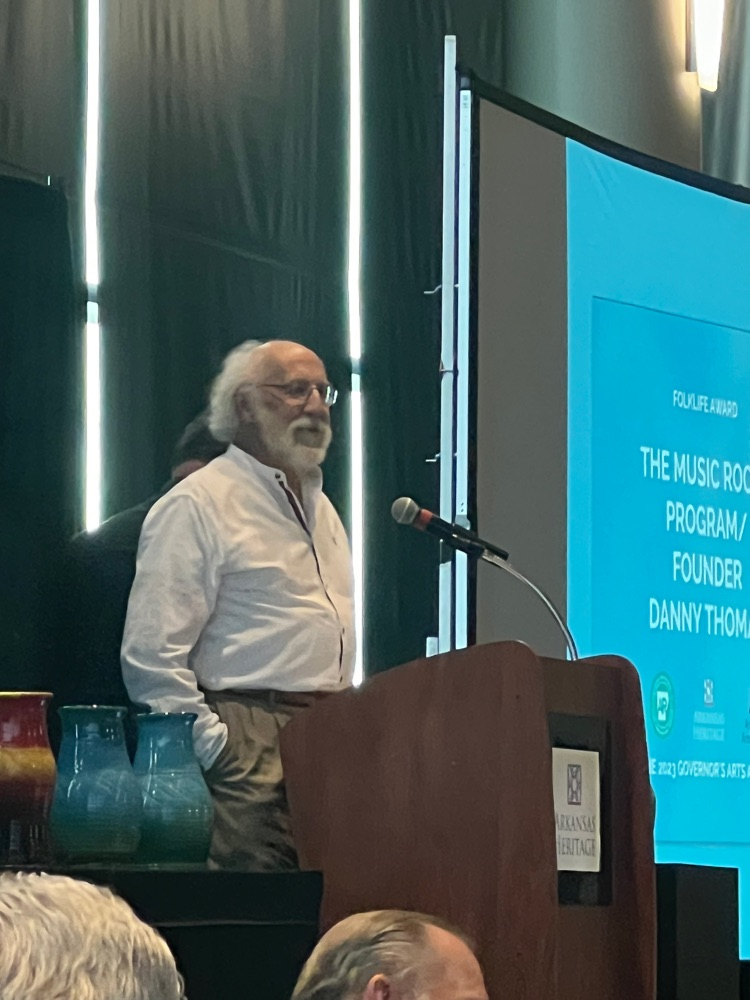 The Next Generation Concert, hosted by the Committee of 100, will be this Saturday, April 14 from 7-10 p.m. at the Ozark Folk Center. Proceeds will benefit the Music Roots program. Student from all of our campuses may participate in this program. You may purchase tickets through the address or QR code below. We hope you can come out and support our current Music Roots students by enjoying the talents of some of our former Music Roots students!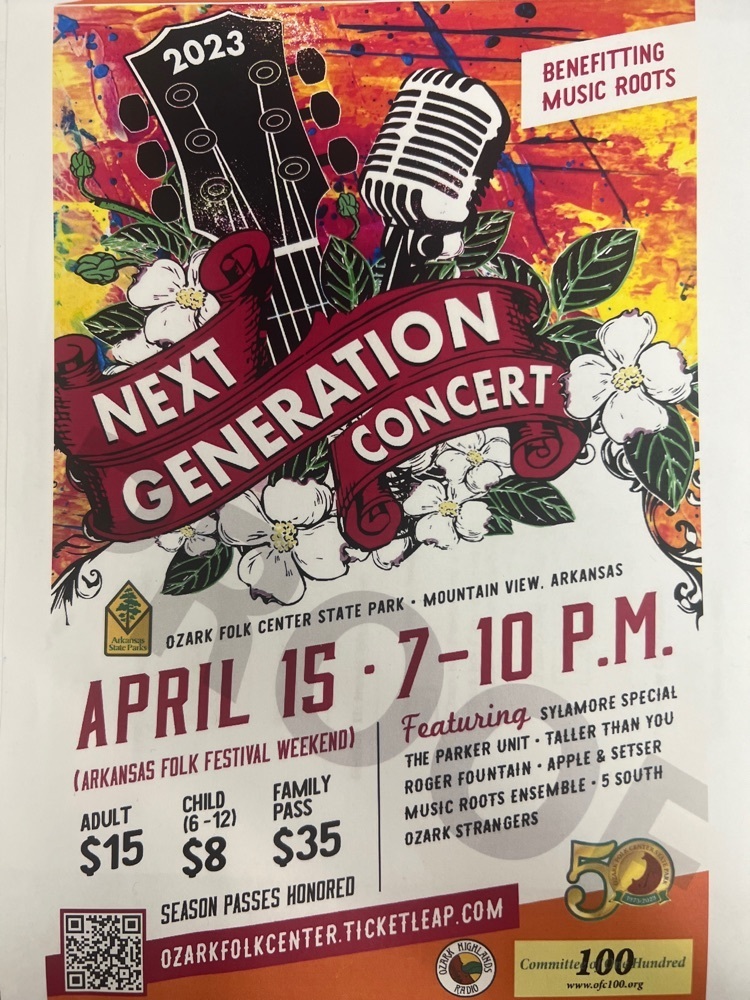 Due to today's Folk Festival events and traffic in downtown Mountain View, some Mountain View buses may run a little late this afternoon. Thanks for your understanding.

We couldn't be prouder of our Music Roots students from across the district. They had a wonderful recital tonight at the Ozark Folk Center. A big thank you to all that have helped!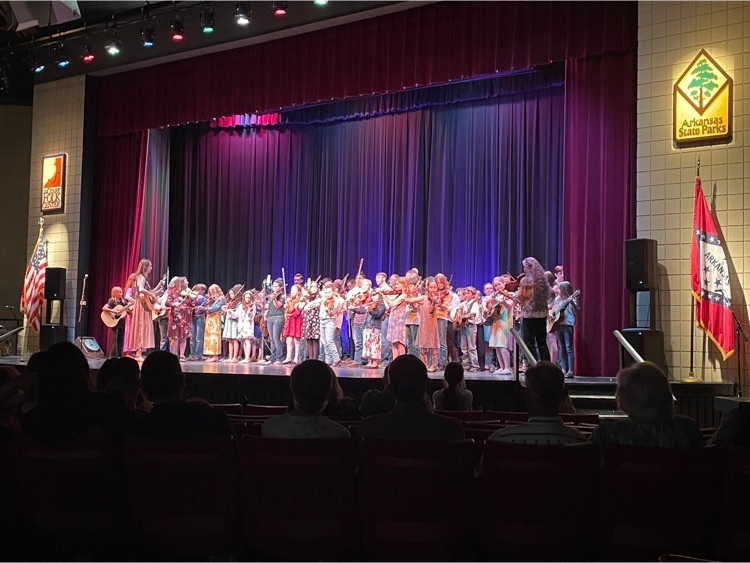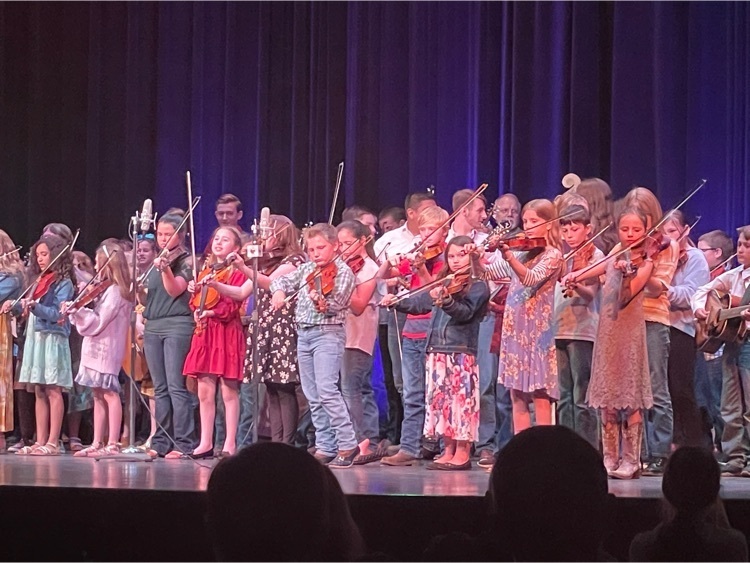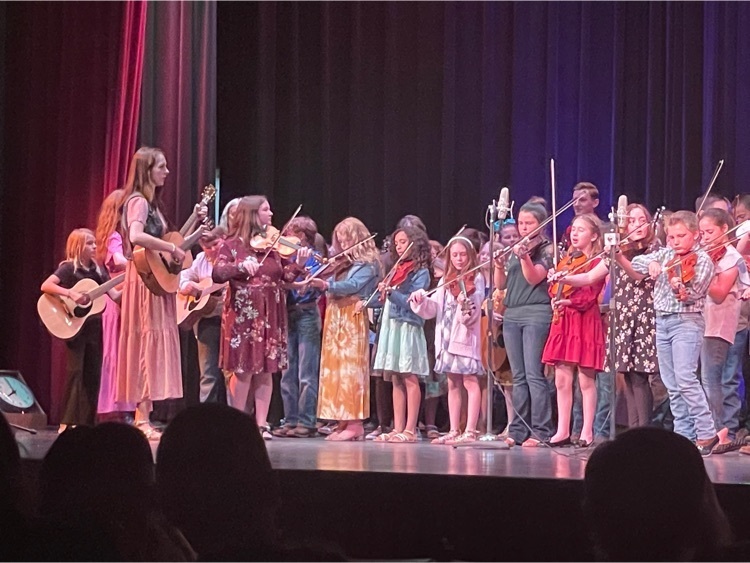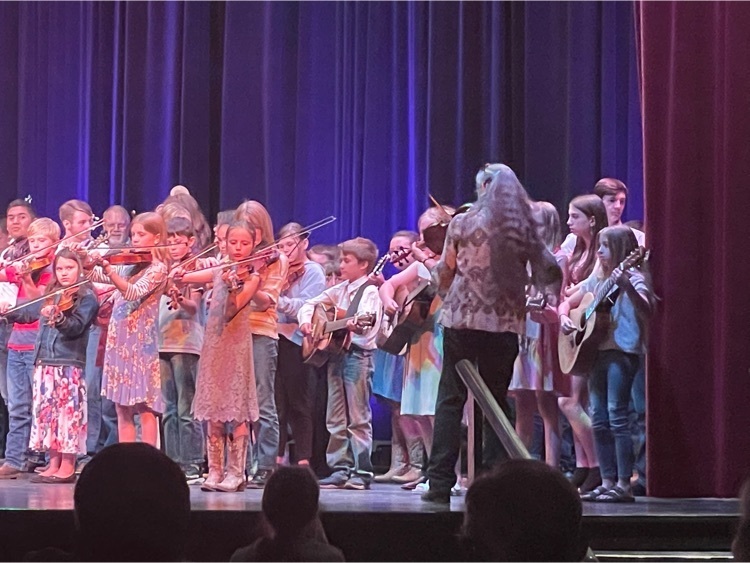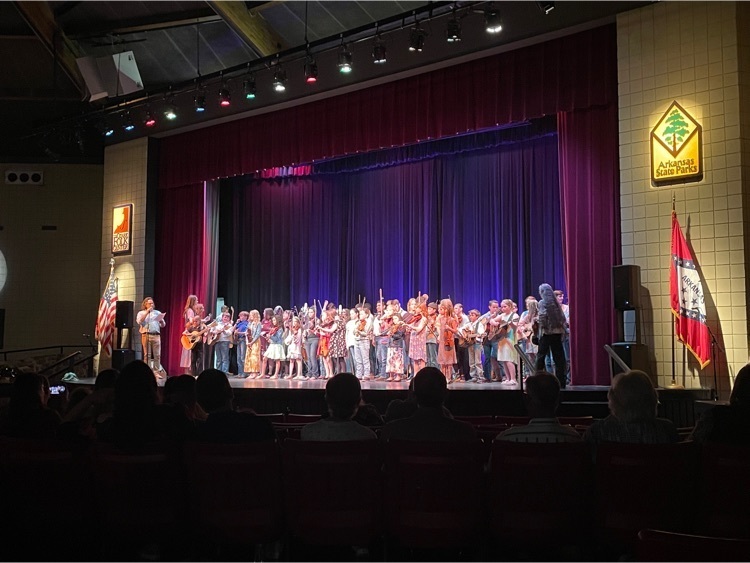 The Music Roots program will be having their recital on Thursday, April 13th at 7:00 p.m. in the Ozark Folk Center auditorium. Music Roots students need to be at the Folk Center no later than 6:00 p.m. Students need to wear jeans, a nice shirt, or a dress/skirt. We hope to see you there to support our students!

The Mountain View School District will not be in session on Friday, April 7 in observance of Good Friday. Regular classes will resume on Monday, April 10 at 8:00 A.M.

Due to the threat of severe storms and heavy rains during the regular drive and delivery times tomorrow morning, The Mountain View School District will begin school tomorrow, Wednesday April, 5 at 10:00 A.M. Teachers and staff should report by 9:30. Bus drivers will adjust their route times accordingly for the two hour delay. Example: If your student normally gets picked up by the bus at 7:15, pickup time tomorrow would be 9:15. Additionally, because of the late start and the proximity to lunch time, breakfast will not be served on the Mountain View Elementary campus. Again, due to the possibility of severe storms from 5 until 9 A.M. tomorrow April 5, the Mountain View School District will begin classes at 10:00 A.M. Teachers and staff please report by 9:30 A.M. Thank You

The Mountain View School District would like to provide some protocol guidance that is to be followed in the event of a Tornado Warning being issued for Stone County during school hours. Upon the issuance of a Tornado Warning during school hours, all Mountain View School District students and staff will be directed to go to the safe room or designated safe area on their perspective campus. Once the safe room/safe area has been secured, no student can be checked out until all Tornado Warnings are lifted for Stone County. Due to limited area, safe rooms are for staff and students only during school hours 8:00 A.M.-3:00 P.M. After school hours those safe rooms will be open to the public. Thank You

The MVSD will release early on the Mountain View campuses today beginning at 2:45 today with the Elementary building. Middle School and High School will release school immediately following Elementary. Again, due to a good weather window the MVSD Mt. View campuses are releasing approximately 15 minutes early today. Thank You

Attention, due to a tornado warning in Stone County, ALL MVSD students and staff have been moved to safe rooms/safe areas. Please do not try to pick your student up at this time. They will be in the safe area until all tornado warnings in the area have expired. Thank You.

Mountain View School Pantry will have a food box distribution tonight during PTC, March 28th, at the Mountain View Campus. Boxes can be picked up at the Mountain View Elementary Library or the pantry room in the kindergarten building. Boxes will be distributed to families of MVSD students until all boxes have been handed out.

The Mountain View School District will observe Spring Break next week, March 20 through the 24th . School will resume on Monday, March 27 at 8:00 A.M. Thank You and enjoy your Spring Break.